The Chattahoochee County Middle School is hosting a Family STEAM Night on May 16th from 5:30 to 6:30! Students and families are invited to participate in hands-on, interactive STEAM activities. Kona Ice will also be available for purchase.
Upcoming 6th - 8th grade students are invited to the CCMHS STEM Camp! The deadline to register is May 16th. Use the link below to register today!
https://forms.gle/qDTQzU1PavJMEhZR9
Panther Nation !!!!!! Please come out and support the Panthers and Lady Panthers as they solidify their position in the first round of the A State Playoffs! The Lady Panthers will face Talbotton @ 4pm in Manchester. The Panthers will face Manchester @ 8pm for the Region Title. See you there!!!!!


CCMHS is pleased to announce a new attendance email for parents to use when notifying the school regarding their child's absence. Please see the information in the flyer.

As our students prepare to close out the first semester, we want to outline our testing schedule. Students who are testing and those preparing to test will attend school on specific days (including virtual students). High school testing students will be dismissed at 11:30 as outlined in the schedule below. This will allow our teachers to remediate struggling students as well as support virtual learners for the remainder of the day. Middle school students will follow their regular schedule format. Middle school students will also complete mid-year MAP testing, focus on STEM activities, and participate in an end-of-semester MAP reward. If you have any questions regarding this schedule please contact the front office or your child's teacher.
The CCMS Handbook states the following: Cell phones and other devices should be off and placed in a secure location, not on the student's person. Cell phones and other personal devices are to be off during school hours, and are not permitted to be used in hallways. CCMS will strictly adhere to this rule moving forward.



Today's Middle School Football Game has been rescheduled to October 13, 2021 at 5:00pm due to inclement weather.

Early Release Information

Reminder: For students who have not gotten a 1:1 Chromebook Device there is still availability of device. Please see graphic for information.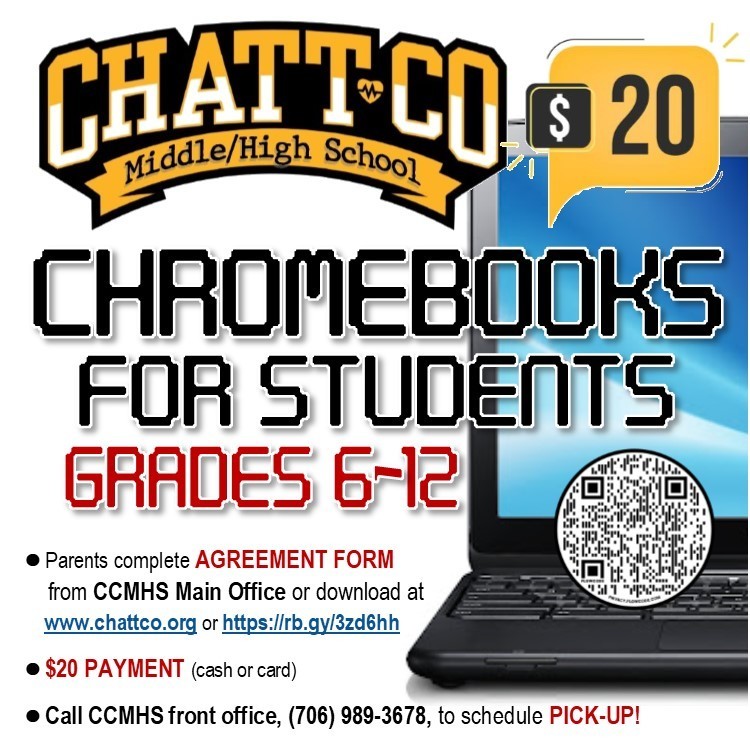 The Middle School football game scheduled for tomorrow has been postponed to September 20th at 5pm in Greenville.

Parents, using the Email registered with PowerSchool you can track your students Internet activity tied to their @chattco.org along with other features by using the GoGuardian Parent App! For more information please visit the Technology Information page under Parents and Students.

The Virtual Learning Application and Letter are now on
www.chattco.org
for grades 4-12. Links to the Virtual Learning Letter and Virtual Learning Application are under the Parents and Students header on the District Site.

Summer Meals Information

Congratulations Landon Sallee on enlisting into the United States Air Force. We are so proud of you! Seniors please continue to send your Acceptance, Enlistment, and Employment news to Ms. McBride, so that we can celebrate your accomplishments

Congratulations Alexis Glover on being accepted into Columbus State University. We are so proud of you! Seniors please continue to send your Acceptance, Enlistment, and Employment news to Ms. McBride, so that we can celebrate your accomplishments